Overnight in Luxury Desert Camp – Camel ride
Best Luxury Desert Camp Morocco, Your option for desert camp in Merzouga
Luxury tours in Morocco provideds by Morocco Exploration Trips are very careful selected. All Moroccan luxury tours we offer are very well organised and prepared. Our goal is meeting the requirements of the customers and their satisfaction. Book your customised Morocco luxury camp Merzouga Overnight lead by professional tour guides. Best experience Luxury desert camp Merzouga, Morocco.
Luxury desert camp – Sahara Luxury camp – Merzouga desert camp – Camp desert Morocco – luxury camp Merzouga – Merzouga camp – luxury camping tents Morocco
Are you luxury traveler? Looking for quality accommodation in Sahara desert Morocco? Also, if you want to be satisfied and relax during your stay in Sahara-Desert? You ask for very good food and better service? We invite you to join our Sahara desert camping in Merzouga for luxury overnight stay in Sahara desert of Merzouga, Erg Chebbi Morocco.
Itinerary: 1 Night Sahara desert tented Camp Merzouga Morocco [tour plan itinerary]
Overnight in luxurious desert camp Merzouga by camel ride tour. This adventurous excursion starts around 16:00, from the hotel in Merzouga, closed to the sand dunes of Erg-Chebbi desert, this experience of camel trekking in sand dunes can take one hour and some minutes. On our way to the Sahara desert luxury camp, we will cross most beautiful dunes of desert, we will have some stops for water break and pictures purpose. We will have a chance to walk in sand dunes and climb to top of big dune to attend spectacular view of sunset and incredible sand dunes. As well as, experiencing sand-boarding if you interested as well as hiking nearby our Morocco desert camp.
The experience is a great opportunity to take a wonderful pictures of the sunset and the sunrise and live Bedouins lifestyle in the  sahara desert Erg-chebbi. We can arrive our luxury Merzouga camp after the sunset and welcomed with cup of delicious mint-tea and relax outside tents or in your private one. About 15 minutes you will have a wonderful Moroccan dinner in beautiful restaurants in camp. After the dinner there will time for small party; drums music with a nomadic Berber songs around fire , in the next morning the camel guide will wake you up to see spectacular sunrise then take a shower and have your delicious breakfast in the desert camp and ride the camels back to the hotel where we park your car. Here our service ends.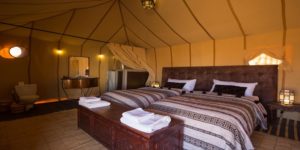 Include in Overnight Sahara Luxury Camp:
Private tent (shower with hot water + WC).
Camel trek for each person and guide.
Bottle of water each for camel trip.
Turban (Berber scarf).
Dinner and breakfast
Parking for your car (if you need)
Sand-boarding.
Enjoy stay in Sahara desert luxury camping in Merzouga Morocco