8 Days Tour from Casablanca, Morocco tours from Casablanca
Overview: 8 days 7 nights tour in Morocco from Casablanca to Marrakech. It is an example of great exploratory trip in Morocco starting from Casablanca. This 8 days Casablanca Morocco trip includes visit to the 4 Morocco imperial cities, Atlas mountains and Sahara desert experience.
🗓️ The plan:
Day 1: Casablanca – Rabat – Meknes – Fes.
Day 2: Guided tour of Fes, Fes sightseeing tour.
Day 3: Fes – Middle Atlas – Midelet – Merzouga desert.
Day 4: Tour around desert – Camel trek night in camp.
Day 5: Sahara desert to Todra gorges – Dades valley.
Day 6: Dades valley – Ait Ben Haddou – Atlas – Marrakech
Day 7: Guide tour of Marrakech – Marrakech sightsee.
Day 8: Transfer to the airport.
8 Days tour from Casablanca – 8 day Casablanca trip – Morocco Casablanca Tours – 8 day tour in Morocco from Casablanca
Week touring Morocco deatils and information:
Tour departure: Casablanca 
End of tour: Marrakech
Trip Duration: 8 Days / 7 Nights
Tour itinerary

8 day Casablanca private tour:
📅Day 1 Casablanca Rabat Moulay Idiss Zarhoun Meknes Fes:
    The road to Fes via the capital Rabat, takes us along a beautiful stretch of farmland where olives, grain, vegetables and grapes are grown. Before arriving Fes you will visit Meknes and Volubilis. Volubilis is the site of the famous Roman ruins left over from the Roman Empire's southern-most outpost.
    Meknes is the site of the first Arab dynasty, created by 'Moulay Ismail', and includes the Medersa Bou Inania and the Bab Mansour, the gateway to the Moulay Ismail Palace. This leads us into the Sehrij es-Souani, the horse stables and granaries. Upstairs is a rooftop garden and cafe with a great view of the city. Later on arrive Fes, check into the hotel.
1st day of 8 days tour from Casablanca ends in Fes Riad.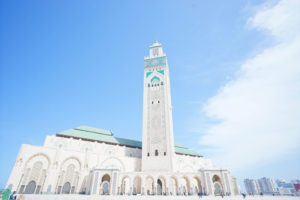 📅 Day 2 Fes Visit Medina:
   Begin your visit of "the oldest Medina in the world" with a local official guide. Tour the Medina with its "souks" (traditional markets), stop at the gateway of the Royal Palace, the 9th century Karouine mosque and university. You will also visit the tomb of the city founder, 'Moulay Idriss II'. Lunch will be at one of the traditional restaurants in the old Medina. After lunch then continue your tour to visit the Najarine Fountain. On the way back to the hotel, you will stop to enjoy a panoramic view of the city. For example, the North tower or South tower of Fes Bali.
2nd day of our 8 day trip from Casablanca ends in Riad.
📅 Day 3 Fes Azrou Midelt Ziz Valley Erfoud Rissani Merzouga :
  In the morning we will go into the mountains, to a region known as Imouzzer, which is blanketed in forests of cedar, juniper and cork oak. The area is well known for its abundant wildlife, and many types of birds, wild boar and Barbary apes may be seen on our scenic drive. Later on, road will then start to climb into the Middle Atlas mountains; the slopes may be dotted with the tents and goat herds of nomadic Berbers who call this rugged region home.
    Afterwards late lunch in Midelt, we continue along mountain roads overlooking the wide flowing Oued Ziz. Passing kasbahs and palm groves, continue through the adobe-colored city of Er-Rachidia and in the late afternoon arrive into Merzouga village, a small town on the outskirts of the Sahara Desert. Overnight in Merzouga.
3rd day of 8 days Casablanca tours finished in Merzouga Hotel.
📅 Day 4 Erg Chebbi Camel Trekking :
   While we finish breakfast in the hotel, you are going on a tour around Erg Chebbi, we visit a house and listen to Gnaoua music, originally from Ghana and Sudan. Embarack tovisit some deserted mines, Berber nomads and an oasis of palm trees. Towards lunchtime we return to Merzouga. As soon as we had lunch and some time to relax, we find the camels who are waiting to take us on an adventure into the sand dunes.
  Spend the night in an equipped desert camp with drums music in the middle of the Sahara: this is a great opportunity to take beautiful pictures of the sunset and sunrise views. Arrive at the camp, we will climb a high dune to see the sunset. You will spend the night in hotel with thousand of stars, a Berber tent, but sparkling sky (full of stars) as well as amazing atmosphere.
📅 Day 5 Merzouga Todra Gorges Dades valley:
  When we done from sunrise, we return on camels to Merzouga. After breakfast and a shower in the hotel, start our journey to Dades valley. Crossing the Rissani also Erfoud; a famous town, known with it's dates palm as well as fossils. Later on, we proceed to Tinejdad, the stunning Todra gorges and Dades valley with the sheer coloured rock everywhere.
📅 Day 6 Dades valley Ouarzazate Kasbah Ait Benhaddou Atlas Mountain Marrakech :
  Leaving Dades Valley after breakfast, driving toward Ouarzazate, Moroccan Hollywood, a backdrop of many famous films, you gonna visit Cinematographic museum, then to UNESCO protected site of Ait Ben Haddou, the most impressive kasbah and well-preserved fortress in Morocco. Many movies were filmed here, such as Gladiator. We will then leave Ait Benhaddou and start heading towards the majestic Atlas Mount. We are going to cross the High Atlas mountain via the highest road pass in Morocco, Tizi n'Tichka, 2260m high, offering impressive views of valleys, mountains and many nearby Berber villages. Arrive into Marrakech in the evening.
6th day of our Morocco 8 days tour from Casablanca stops to Marrakech.
📅 Day 7 Visit Marrakech :
   A day-long tour of Marrakech, visiting the Menara, a pool surrounded by flowerbeds that function as an irrigation system for the surrounding fields. The sightseeing tour will cover several impressive sights: The Koutoubia mosque, Majorelle Gardens, Bahia Palace also, Dar Si Said Palace museum of jewellery. There will be an optional lunch in the Medina, followed by a walk through the colorful souks of Marrakech. After that you can enjoy a sunset drink overlooking the exciting Jemaa El Fna square from the terrace of a cafe. At the end, dinner and overnight at a hotel.
7th day in the 8 day Morocco tour from Casablanca will be in Marrakech.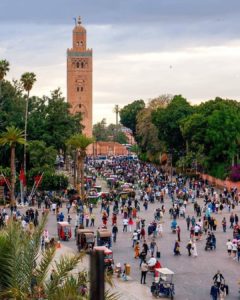 📅 Day 8 Marrakech Casablanca Transfer to Airport :
   Transfer to the Casablanca airport from Marrakech before two hours of the flight we will be in the airport.
8th day is last day of 8 day Casablanca trip, End of Casablanca Marrakech Private tour.
Include in the trip 8 day Casablanca:
Private tour
Private transportation service by 4×4 or minivan with A.C
Pick up and drop off from/to hotels
English speaking driver guide
7 Nights accommodations with breakfasts
Walking tours in the medinas
Night in desert by camel trekking
Not include in the trip 8 day Casablanca:
Lunches/Dinners
Water/drinks
Tips
---
 Tour Morocco in 8 days that we offer is possible to modify to meet yur personal requirements. Plesae contact us for customise tour from Casablanca.
💰 Pricing, Payment & Confirmation Morocco tour?
💲 Price of the tour: The price of the 8 day Casablanca tour. It depends on the number of persons you are and the type of the accommodation choosen Standard or Luxury.
💯 Payemnt & Confirmation: Concerning the payment, we accept the following 3 currencies: EUROS, USD & MAD. To confirm the tour with our team you should pay us a deposit of 15% of the total price and the rest you can pay it during the tour in Morocco. For the exchange currecnies we rely on the following website: https://www.xe.com/en/.
[kkratings]